Crimson Road Studio
Cozy recording studio in the heart of Northwest Arkansas suited for singers, songwriters, musicians, and dreamers to do everything from simple demo tracks to full-blown radio-ready productions. Crimson Road features Cubase 12 Pro, a top-level Digital Audio Workstation recording and production software platform with all the proverbial bells & whistles, including, um, bells & whistles, and so much more!
Cubase Pro Digital Audio Workstation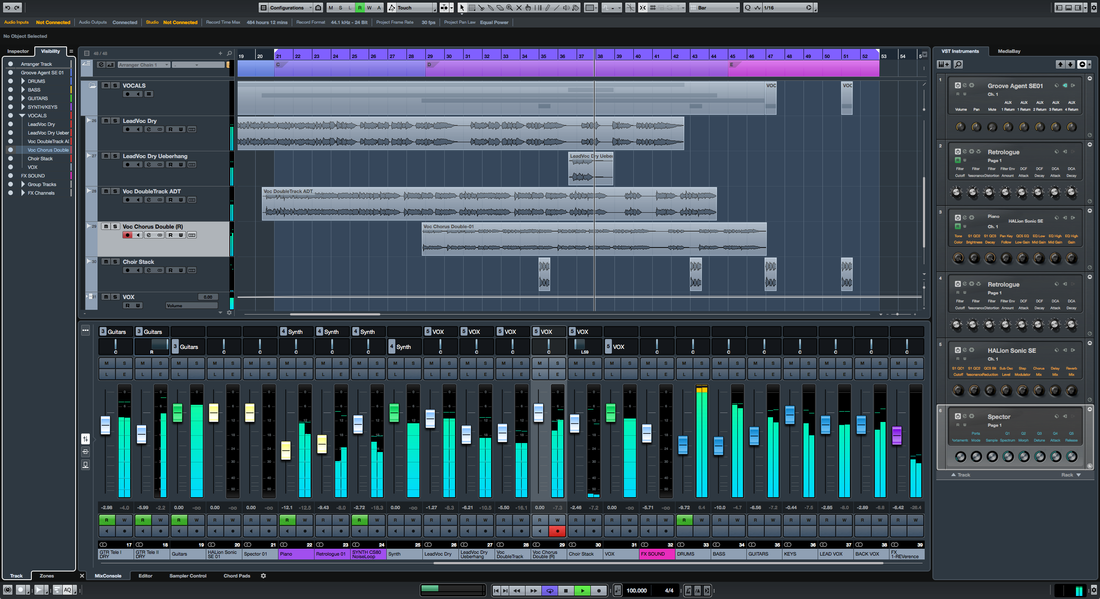 Interfaces including the professional's choice Universal Audio Quad X as well as a Focusrite Scarlett with famous warm Focusrite preamps. Additional Audient multi-channel preamp for additional input sources and routing options. Top pro studio channel strips including SSL, Neve, and Avalon.
Slate ML-1 Modeling Condenser Microphone with accurate models of several legendary studio microphones worth tens of thousands of dollars. Rode large-diaphragm condenser mic, assortment of dynamic microphones.
An incredible arsenal of Virtual Instruments, including legendary analog synths: 
Prophet 5, Yamaha CS-80, Mini-Moog, Padshop, Moog Modular, Roland Jupiter 8, Roland Juno 106, PPG Wave, Oberheim OB-X, Synclavier, and many more, including an exceptional rendition of the famous Hammond B-3 organ. Virtual instruments capable of being played through a variety of professional keyboards, including an 88 key piano weighted Yamaha and a plush semi-weighted Arturia keyboard.
A Collection of Real Instruments, including Yamaha electronic pianos with real fully-weighted keys, a Yamaha MX-88 weighted-key synthesizer workstation, a Roland Fantom X, and actual vintage synthesizers such as a Yamaha CS-40, Prophet 600, and Yamaha TG-33 / Prophet VS, as well as a Fender Telecaster, Ibanez bass, a 1948 Kay Upright bass, and an assorted acoustic guitars. Amps include a Hartke bass amp, a Boss Katana modeling amp, a super clean Bose amp, and exceptionally modeled virtual amps from Marshall, Ampeg, GK, and more. There is also a legendary Roland/Boss GT-6 pedal-board for guitars.